Empire, Colonialism, and Famine in Comparative Historical Perspective: The Bengal, Irish, and Ukrainian Famines
Friday, October 28, 2016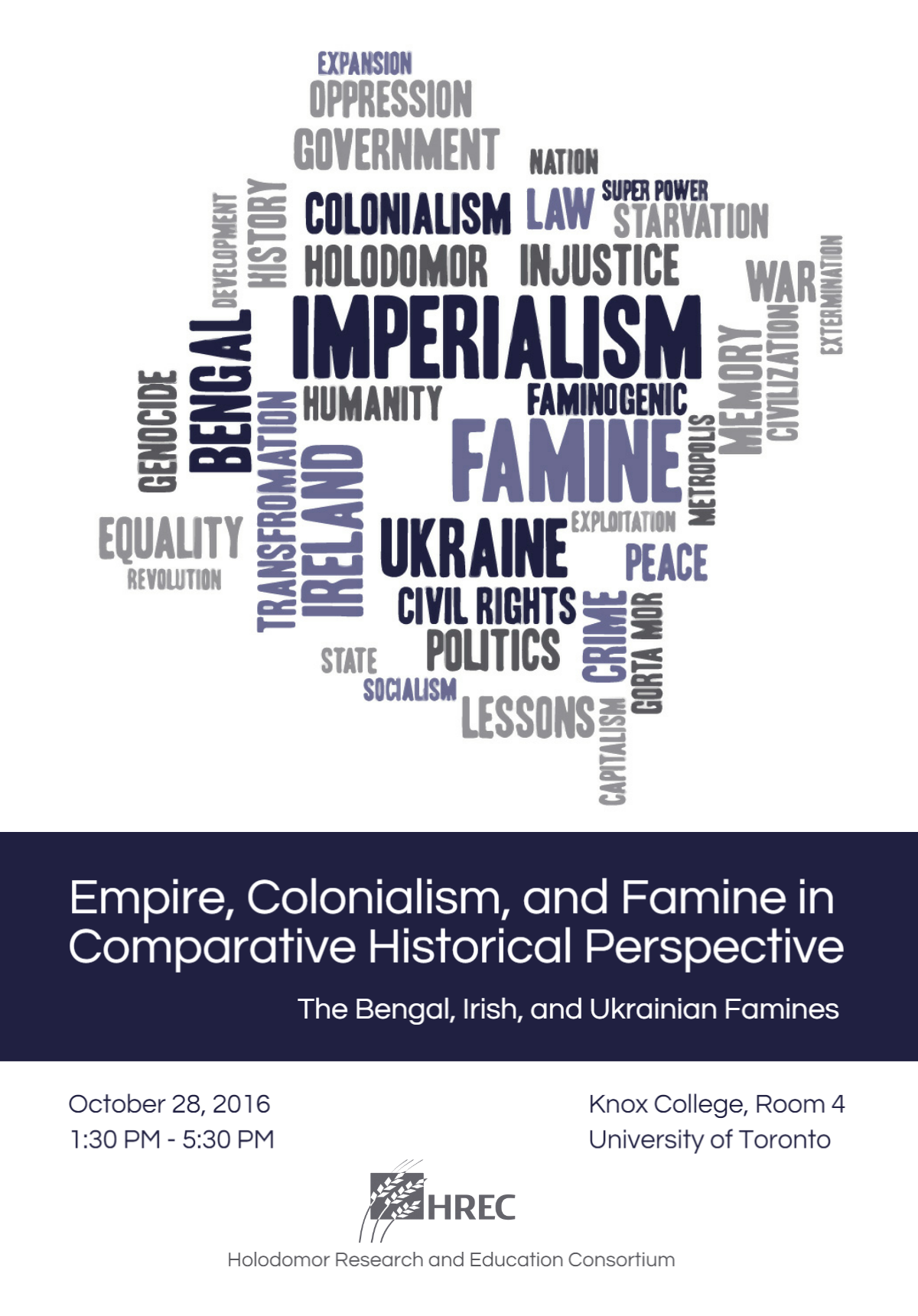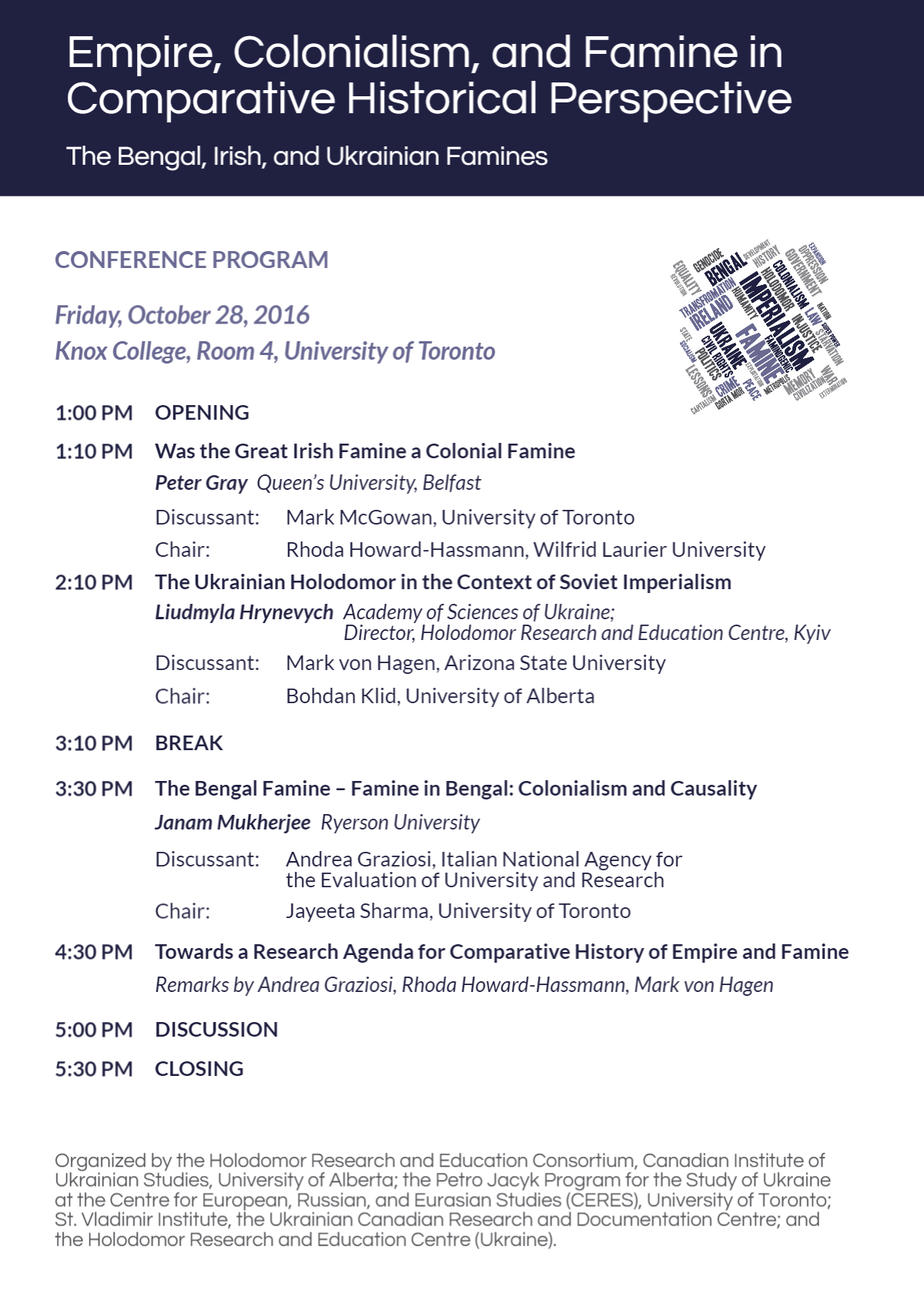 Introductory Remarks, Empire Colonialism, and Famine in Comparative Historical Perspective
Frank Sysyn, University of Alberta
SESSION 1:  
Was the Irish Famine a Colonial Famine?
Peter Gray, Queen's University, Belfast
Discussant: Mark McGowan, University of Toronto
Chair: Rhoda Howard-Hassmann, Wilfrid Laurier University
SESSION 2:
The Ukrainian Holodomor in the Context of Soviet Imperialism
Liudmyla Hrynevych, Academy of Sciences of Ukraine; Director, Holodomor Research and Education Centre, Kyiv
  Discussant: Mark von Hagen, Arizona State University
  Chair: Bohdan Klid, University of Alberta
SESSION 3:
The Bengal Famine – Famine in Bengal: Colonialism and Causality
Janam Mukherjee, Ryerson University
  Discussant: Andrea Graziosi, Italian National Agency for the Evaluation of University and Research
  Chair: Jayeeta Sharma, University of Toronto
Roundtable: Towards a Research Agenda for Comparative History of Empire and Famine
Andrea Graziosi, Rhoda Howard-Hassmann, Mark von Hagen
Co-sponsored by
the Petro Jacyk Program for the Study of Ukraine at the Centre for European, Russian, and Eurasian Studies (CERES), University of Toronto. 
Presenters
    
Peter Gray is Acting Director of the Institute of Irish Studies at Queen's University Belfast.

His research specializes in the history of British-Irish relations c.1800-70, especially the political history of the Great Famine of 1845-50 and the politics of poverty and land in the nineteenth century.

Andrea Graziosi is a professor (on leave) at the Università di Napoli Federico II, an associate of the Centre d'études des mondes russe, caucasien et centre-européen (Paris), and a fellow of Harvard's Ukrainian Research Institute and Davis Center for Russian and Eurasian Studies.
 
Rhoda Howard-Hassmann is a former Canada Research Chair in International Human Rights at Wilfrid Laurier University. A leading scholar of human rights, she is the author of State Food Crimes (Cambridge University Press, 2016).
 

Liudmyla Hrynevych is the Director of the Holodomor Research and Education Centre in Kyiv, and Senior Scholar at the Institute of the History of Ukraine of the National Academy of Sciences of Ukraine. 
 
Janam Mukherjee is an Assistant Professor of History at Ryerson University. His book Hungry Bengal: War, Famine and the End of Empire (Oxford University Press, 2015) is a detailed socio-economic analysis of mid-twentieth century Bengal.
 
Mark von Hagen is a professor at Arizona State University and teaches Russian, Ukrainian, and Eurasian history. He was formerly at Columbia University. He has written on topics in historiography, civil-military relations, nationality politics and minority history, and cultural history.