Holodomor Workshop for Graduate Students and Early Career Scholars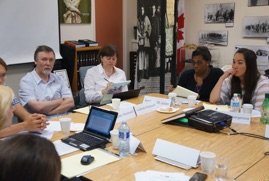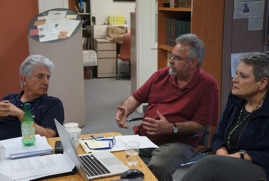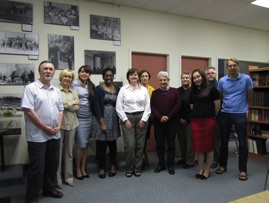 Five researchers gathered for two days of intense discussion at the Holodomor Workshop on June 6-7. The event allowed scholars early in their careers to present preliminary findings and to benefit from in-depth engagement with peers and established experts, explained Olga Andriewsky, a professor of history at Trent University and one of the workshop facilitators. "The value of a workshop is that it is a place to test out ideas, to try out different concepts and approaches, and to discuss research strategies—all in a collaborative and supportive setting."
The workshop was organized by the Holodomor Research and Education Consortium (HREC, Canadian Institute of Ukrainian Studies, University of Alberta), in cooperation with the Ukrainian Canadian Research and Documentation Centre at St. Vladimir Institute, in Toronto.
Andrea Graziosi, University of Naples, served as co-facilitator. Professor Graziosi was one of the first historians to write about the genocidal nature of the Ukrainian famine. In addition, participants benefited from the expertise of Liudmyla Hrynevych, the leading Holodomor scholar in Ukraine and her husband Vladyslav Hrynevych, a specialist on World War II on Ukrainian territory, who contributed valuable suggestions regarding methodology and advice on specific archival sources.  HREC researcher Andrij Makuchalso actively participated.
Each two-hour session was devoted to the paper of one participant. Papers were circulated in advance of the workshop, and participants submitted questions about their colleagues' papers to further a sense of a common enterprise and enhance the discussions.
The first paper, given by Olga Bertelsen, was entitled "The Politics of Silence during the Collectivization Campaign in Ukraine, 1928-1933." She discussed silence as an element essential to authoritarian societies, concealing the truth about atrocities committed by the state. Dr. Bertelsen described the opportunity to discuss her work with Professor Graziosi as particularly valuable to her. "He guided me toward several sources that would definitely enrich my project, and suggested a methodological approach that would add depth to the main argument," she said. She also underscored the value as a historian in meeting other scholars interested in the Holodomor from the perspectives of oral history and memory politics. "Establishing new connections can lead to new collaborative projects, and our common experience can become the foundation for such projects in the future," she said.
Kimberly St. Julian, Harvard University, presented her paper "Stalinism in the Countryside: Collectivization and the Famine in Soviet Ukraine as Formative Experiences." Ms. St. Julian was recently awarded a master's degree from Harvard University in Regional Studies (Russia, Eastern Europe, and Central Asia) and plans to pursue a PhD in history. In her paper, she utilized diaries and letters written during the Holodomor to explore how peasants and local Communists perceived and understood the experience. Ultimately, as St. Julian explained, the primary purpose of her work is to locate the Holodomor within Soviet historiography and the peasantry as central to this analysis.
Diana Kudaibergenova, a PhD candidate in sociology at the University of Cambridge, presented her paper "Articulating Cultural Trauma: The Holodomor, Social Suffering and Contemporary Nation-Building in Ukraine." She assessed the concept of cultural trauma, analyzing the Ukrainian Holodomor and the formation of collective identity in the aftermath of the tragedy and after the fall of the empire that caused it. Her paper prompted a discussion on the nature of social memorization in Ukraine prior to and after the independence and how the political projects of remembering or forgetting Holodomor (e.g., during Yanukovych regime) affect social response and opinions on the issue. She outlined her examination of the social "coding" and "weighting" of trauma – providing an argument for its authentic rather than constructed nature.
In evaluating the workshop, Ms. Kudaibergenova pointed to the unique blend of research in progress, expertise of senior scholars and hands on advice on archival research in Ukraine. "By combining these three elements, the workshop was extremely helpful for young scholars who were able not only to share our findings and test hypotheses but also to learn from each other and our more experienced colleagues," she said.
Alexander Gogun of the Free University in Berlin presented the paper "The Bread of Ukraine for Military Plants in Russia – Political-Economic Causes of the Holodomor." Its main hypothesis was that Stalin's focus on developing military industries within the RSFSR left the Ukrainian SSR—notwithstanding its own industrial growth—as a "supplier of other means needed for the import of machines and construction of weapons and munitions plants."
Daria Mattingly, a PhD candidate in Slavonic Studies, University of Cambridge, presented a paper on how the perpetrators of the Holodomor are remembered and forgotten. She discussed her attempts to assess the relations the perpetrators had with their victims, their motivations for compliance and their fates after the Famine.  Ms. Mattingly is at the early stages of writing a dissertation on cultural memory of Holodomor's rank-and-file perpetrators. She draws on the testimonies of both the perpetrators and survivors, archival data and contemporary post-memory in three villages in different regions of Ukraine: Pidhorodne (Dnipropetrovsk province), Petrivtsi (Poltava province) and Toporishche (Zhytomyr province), developing a microlevel analysis intended to provide insight into what took place in the rest of the country. While looking through materials housed in the archives of the Ukrainian Canadian Research and Documentation Centre, Ms. Mattingly was pleased to find a survivor's testimony from one of the villages she studies.
Marta Baziuk, Executive Director of HREC, noted that the gathering constituted a workshop in the truest sense. "Our five talented early career scholars shared information and challenged each other's views, and our experts provided them with valuable guidance, both in terms of theoretical and methodological approaches, including concrete advice on what to read and where to look."
The Holodomor Research and Education Consortium (HREC) announces the Holodomor Workshop, to be held in Toronto June 6-7, 2014.
Approximately eight graduate students and early career scholars will be selected to discuss their work and exchange ideas in a workshop facilitated by professors Andrea Graziosi, University of Naples, andOlga Andriewsky, Trent University, with the participation of other senior scholars. Each session will be devoted to discussion of one paper. The workshop will be conducted in English. Room and board and travel expenses will be covered by HREC.
Deadline for applications and requirements:
HREC invites proposals from graduate students and early career scholars (i.e., those who have completed their doctoral degrees within the five previous years) in relevant academic disciplines, including history, comparative genocide studies, literature, anthropology, cultural studies, psychology, demography, sociology, and law. Awards will be granted on a competitive basis.
To apply, please send a 250-500 word summary of the proposed paper together with a c.v. and one faculty recommendation to hrec@ualberta.ca, subject line: Holodomor Workshop. The deadline for applications is March 15.
Applicants must commit to submitting a paper by May 23. Papers will be circulated among other participants in advance of the workshop.