Thursday, April 12th, 2018 | 7:30 p.m.
Humber Room | Old Mill | 21 Old Mill Rd, Toronto
Through an analysis of newspapers, political speeches, and protests, Starving Ukraine examines both Canada's reporting of the Holodomor and the country's response to it.
read more
Featured
NOW AVAILABLE – Holodomor in Ukraine, the Genocidal Famine 1932-1933: Learning Materials for Teachers and Students
Valentina Kuryliw, HREC Director of Education, developed this first-of-its-kind resource for use in a range of courses and grade levels, employing a multidisciplinary approach to integrating the teaching of the Holodomor in social studies, media and religious studies, social justice, the literary and visual arts, history, and genocide. Learn More
Olgerd Bochkovsky
Four texts by or about Olgerd Bochkovsky, from the publication Olgerd Ipolyt Bochkovsky: Vybrani pratsi ta dokumenty, Tom 1 (Kyiv: Ukraina Moderna and Dukh I Litera, 2018)].
Learn More
Oleh Wolowyna: Measuring Mortality in the Holodomor
Learn More
Prize: Holodomor Lesson Plan Development, marking the 85th anniversary of the Ukrainian genocide known as the Holodomor. This event was denied, covered up, ignored and not taught for many decades. Today it is included in curricula on human rights, genocide and social justice across Canada. The prize is intended to foster the development of innovative, creative and interactive lessons for grades K-12 that develop critical thinking skills while addressing the topic of the Holodomor. Individual prizes will vary up to but not exceeding $1,000.00 CDN and will be awarded per grade level based on the quality of submissions.
Publications
Contextualizing the Holodomor: The Impact of Thirty Years of Ukrainian Famine Studies
Andrij Makuch, Frank Sysyn
It was in the 1980s that the Famine of 1932–1933 in Ukraine became the subject of serious academic study. The publication of Robert Conquest's ground-breaking The Harvest of Sorrow in 1986 in particular focused attention on what has come to be known as the Holodomor. The pace of research accelerated in the wake of the disintegration of the Soviet Union, when archives that had been off limits became accessible. Issues that had once raised controversy such as whether the Ukrainian borders had been closed were…

ORDER THE BOOK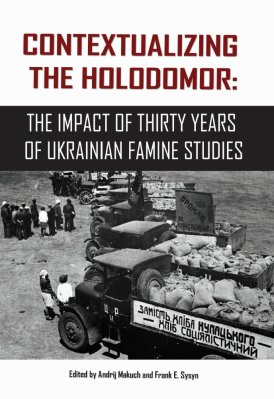 The Holodomor Reader: A Sourcebook on the Famine of 1932–33 in Ukraine
Alexander J. Motyl, Bohdan Klid
The Holodomor Reader is a wide-ranging collection of key texts and source materials, many of which have never before appeared in English, on the genocidal famine (Holodomor) of 1932–33 in Soviet Ukraine. The subject is introduced in an extensive interpretive essay, and the material is presented in six sections: scholarship; legal assessments, findings, and resolutions; eyewitness accounts and memoirs; survivor testimonies, memoirs, diaries, and letters; Soviet, Ukrainian, British, German, Italian, and Polish documents; and works of…

ORDER THE BOOK  PREVIEW ONLINE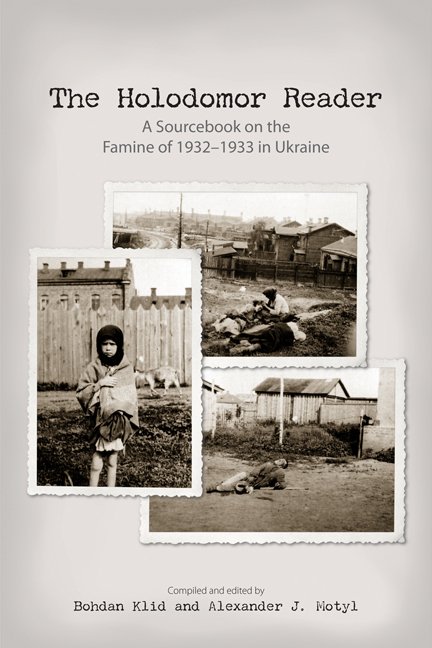 Communism and Hunger: The Ukrainian, Chinese, Kazakh, and Soviet Famines in Comparative Perspective
Frank Sysyn, Andrea Graziosi
In this volume, leading specialists examine the affinities and differences between the pan-Soviet famine of 1931–1933, theUkrainian Holodomor, the Kazakh great hunger, and the famine in China in1959–1961. The contributors presented papers at a conference organized by the Holodomor Research and Education Consortium in 2014.The first three articles deal with famine within a single state or Soviet republic and the remaining three offer comparative perspectives. Nicholas Werth examines the dynamics of the economicsand politics that…

ORDER THE BOOK